By continuing your navigation, you accept the use of cookies to offer you services and offers tailored to your interests and statistics. To know more, Click here.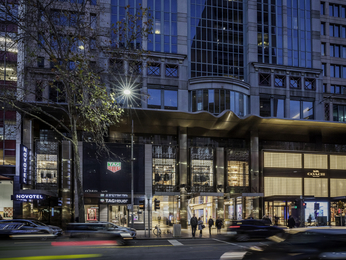 Community
NOVOTEL.
Hotels
JackLi76
Train station + Reduced mobility
Hello all, I'm going in this hotel for 2 nights, can I go walk to the train station ? Isn't too far ? Is The hotel accessible to people with reduced mobility ? Thanks a lot ! Have a great weekend
henr33264523
The at
anth11353126
The at
It is a couple of blocks to Flinders Station. I'm not sure about the mobility.
gasp56564433
The at
Hi, yes easy access to station on level footpath and hotel has lifts so easy accessibility??
suja52416666
The at
Hi Jack, the train station from memory is about a 10/15min walk. That is Southern cross station. But there is a free tram that runs on collins street, there is a tram stop a couple min away. I do this accessibility is pretty decent for the hotel. Main entrance is off the pavement and then take a list upto Level 3 for the reception. Enjoy your stay.
brad43223114
The at
Hi, Flinders Street Station is about a 5-10 minute walk. The hotel has accessible rooms, you should request one. The Lobby is on the 1st floor but there is a lift.
pw@p64453445
The at
There are two sets of lifts from the rooms to the street level, and then it's a 3 block walk to flinders street station. That size of walk is pretty standard for any hotel, but you may find the extra lift a little bothersome.
dail44532124
The at
There is a tram in front of the hotel- it may be a100m walk from hotel grounds to the tram station.- Once you are on the tram, you can take alternate trams and ultimately to the train station. To get to the lobby- there are escalators to take. Hope it helps.
ALSO FIND ACCORHOTELS.COM ON
*Prices start from. Offer subject to the hotels conditions and availability, and the availability of the offer in the chosen hotel. See the sales conditions for the rate. Depending on the country, these prices may not include taxes, may include VAT only or may include all taxes (VAT and city tax). When prices do not include all taxes, the relevant taxes (VAT and/or city tax) will be stated in the following stages of the reservation process. The price is only guaranteed at the time of reservation.
(**) 24/7 days. Calls to this number will cost 13 pence per minute plus your providers access charge (only for AccorHotels hotels).