By continuing your navigation, you accept the use of cookies to offer you services and offers tailored to your interests and statistics. To know more, Click here.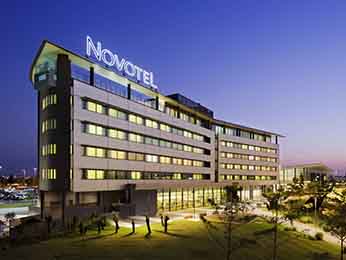 Community
NOVOTEL.
Hotels
Billy44495
Noise
Hey, is the hotel quiet or can we really hear the planes anywhere in the hotel? Can we eat and sleep properly? Do they offer shuttles to the airport, and if yes, is it extra charged? Thanks
ijar62426314
The at
marc56654363
The at
No issue for me. I slept well. No plane or other nose.
beac43344155
The at
Hi yes very quiet! Great hotel lovely staff. Nice restaurant downstairs. No shuttle but cheap taxi (around $14)
pete25226645
The at
Yes the hotel is very quiet and you will have no trouble sleeping. The restaurant is good and there is a good shopping mall across the road. There is a shuttle to the airport but I do not kow if there is a charge.
daph53631532
The at
There was absolutely no noiseYes they have shuttles and the food we had late at night was great
shir24213155
The at
Yes the hotel is quiet and they do have a shuttle.They are near DFO and a few shops and cafes
colj12525256
The at
No Problems sleeping Shuttle to both terminals $6 per person 5 min to International terminal and 7 min to domestic terminal Great food options at Shopping centre across road and Hotel has a great Restaurant and great value if you are an Accor plus member
gdix66363241
The at
Not sure about shuttle charge ,however very quite and never had a problem with noise.
murr14235152
The at
Yes. It is very quiet. It is quite a distance from the airport proper. They do have a shuttle. I don't think that they charge but I am not sure.
pans42665412
The at
Motel iis very quiet . We have had great nights there dinning and sleeping . Shuttle bus is extra .$6 per persøn .
ALSO FIND ACCORHOTELS.COM ON
*Prices start from. Offer subject to the hotels conditions and availability, and the availability of the offer in the chosen hotel. See the sales conditions for the rate. Depending on the country, these prices may not include taxes, may include VAT only or may include all taxes (VAT and city tax). When prices do not include all taxes, the relevant taxes (VAT and/or city tax) will be stated in the following stages of the reservation process. The price is only guaranteed at the time of reservation.
(**) 24/7 days. Calls to this number will cost 13 pence per minute plus your providers access charge (only for AccorHotels hotels).